Book now
Hotel Parchi del Garda Pacengo di Lazise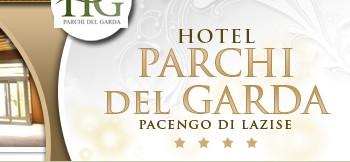 The Parchi del Garda is a new 4 star hotel surrounded by the beautiful setting of Garda Lake, is located in the centre of the most famous of Lake Garda as Lazise, Bardolino, Garda and Peschiera and onlt 500 meters from Gardaland (Amusement Park).

The rooms are equipped whit ari conditioning, modern furnishing and full bathrooms. Some also include a flat screen TV, a balcony and can accommodate up to 5 people; breakfast is buffet style and includes pastries and sausages, while the restaurant serves international and italia dishes.

Our structure is composed of 5 pavilions. Moreover, there are several services reserved to the children and the lovely mascot of the hotel organizes games and activities for them.

The staff of the Hotel Parchi del Garda is always ready to satisfy all your needs and helps you with the organization of your stay. The hotel lacks nothing. Our splendid structure is provided with: gardens, play ground, outdoor swimming pools, 2 restaurants and 3 bars.

Finally, the hotel places at its guests' disposal the major congress structure of the area, where you can organize congresses or business meetings. There is also the possibility of choosing among a big variety of post-congressional proposals, which can take place whether in the hotel or in the near fun fairs, our partners. Thanks to our organization your events will be unique and unforgettable.

The payment of the entire stay will be required at check-in.

The city tax of € 1,50 per day per person over 14 years old is NOT included.
Give us your Feedback
Hotel Parchi del Garda, Via Brusà - Pacengo di Lazise
HotelsinGarda.com
Copyright © 2009 - 2020 | P.IVA# 03458490277